If you've been following the meal plan for awhile then you know that I used to make Saturday Morning breakfast a thing. Like a whole THING!
Then my husband started letting me sleep in on the weekends and the teenager took an interest in cooking so my weekends have actually been restful.
I got up on this particular morning and had pancakes in my heart. Not just any regular old pancakes but peach cobbler pancakes. I don't have to have fruit with my breakfast but this morning I was just in the mood to treat myself.
What I have learned is that you can't wait for somebody, anybody to treat you. You just gotta…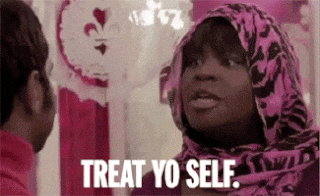 Buy yourself flowers or a nice gift, treat yourself well and others will fall in line.
So on this morning I woke up ready to treat myself well and I did just that with these Peach Cobbler Pancakes.
Peach Cobbler Pancakes
Ingredients:
Krusteaz Pancake Mix
1.5c Heavy Whipping Cream
1/4c sugar
2tbsp Vanilla Extract
I can of peaches
1c Brown Sugar
Chopped Pecan (optional)
Directions:
Make your pancakes according to the package directions and you can keep them warm in a very low oven. Most ovens have a 'warm' feature.
To make your peach topping simply combing the peaches, brown sugar and 1tbsp of vanilla, 1tsp of cinnamon in a small pot and bring to a boil. Once it boils for about 4-5min. Turn the heat off and let it cool.
To make your whipped topping mix your heavy whipping cream, 1/4c of white sugar, 1tbsp vanilla extract in a bowl and whip with a mixer until stiff peaks form.
Take your peach topping and spoon the peaches over your pancakes, top with whipped cream and then pour the syrup from the peaches on top. Sprinkle chopped pecan on top.
I hope that this makes you feel as fancy as it made me feel!