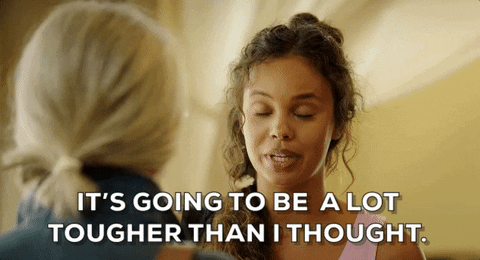 Ok…. Soooo yeah. This week is looking like I'll be driving the hot mess express. If you're struggling with meal planning too then just hop on and join us for the ride.
I'm not trying to incite panic or anything but chillllleeeeeeeee… The stores are looking barer than bare. The only thing there is an abundance of is the employees that keep spraying you with lysol as soon as you open the door. Everybody has a job to do I guess.
I wanted to a do a week of struggle meals because I think it's a good skill to have. I grew up on struggle meals when my parents weren't home to cook and it really taught me how to repurpose foods and make something new.
Even if you didn't have struggle meals as a child I can almost guarantee you learned to get creative in college. I was an easy mac kinda girl instead of ramen but that's another story for another day.
Like I always say… Food doesn't have to be fancy or expensive. It just has to be good and you can always do that on a budget.
Let's get into it.
Week 22
Sunday: Spaghetti Grilled Cheese Sandwich
https://thekittchen.com/spaghetti-grilled-cheese/
Tuesday: Upgraded Instant Ramen
https://www.buzzfeed.com/emmacooke24/how-to-upgrade-your-instant-ramen?utm_term=.dd54242vv&sub=4392027_9937051
Wednesday: Breakfast for Dinner
Also Known as "Brinner" This meal is up to you and your refrigerator. Anything goes.
Thursday: Red Beans And Rice
https://www.myforkintheroad.com/2018/12/24/youve-never-had-red-beans-and-rice-before/
Friday:
Hunger Games (Fend for Yourself)
Saturday: Biscuits and Gravy w/ Sausage and Eggs
http://www.mforfashion.com/2019/06/biscuits-and-gravy-with-sausage-and-egg.html?m=1
Shopping List
Produce:
Fresh Garlic cloves (Su,Th)
Mushrooms (Tu)
Spinach (Tu)
1 Onion (Th)
1 Green Pepper (Th)
2 Celery Stalk (Th)
Meat, Poultry & Fish:
1/2c Bologenese Sauce (Meatsauce) (Su)
Andouille Sausage (Th)
1/2lb Chicken, shredded (Th)
Grains:
Italian Bread (Su)
Angel Hair Pasta (Su)
Long grain white rice (Th)
Condiments & Spices:
Italian Seasoning (Su)
Chicken Broth (Tu)
Bay Leaves (Th)
Thyme (Th)
Parsley (Th)
Cajun Seasoning (Th)
Dairy & Refrigerated Items:
Butter (Su)
Finely grated parmesan (Su)
Frozen:
Canned & Jarred:
Instant Ramen (Tu)
Olive oil (Th)
Fire Roasted Tomatoes (Th)
Dry Goods:
1lb dry kidney beans (Th)
Other:
Check your refrigerator and cabinets to prevent overspending. Most of the items are pantry staples and you might already have them.
I know that we are literally in the hunger games right now and you may not be able to follow this guide. If you follow me on instagram or fb then message me what you have and I can send you links for different recipes to help you make it through these next few weeks.