February is finally here! Can we all just agree that January was the longest year ever! Its definitely not how I planned on bringing the new decade in! It's been a full struggle that I plan on rewarding myself for just getting to the other side! You should too.
Black history month is one of my favorite months because I look forward to all the information that becomes available and exposing my children to it. One of my goals this month is to highlight more recipes by black food bloggers as well as my favorite cookbooks.
Right now I am diving headfirst into The Cooking Gene by Michael Twitty. I hope you get a chance to look at it as well!
This Weeks recipes have actually brought back some excitement to my palette. I have to throw in the chicken noodle soup because sickness is making a home in my house.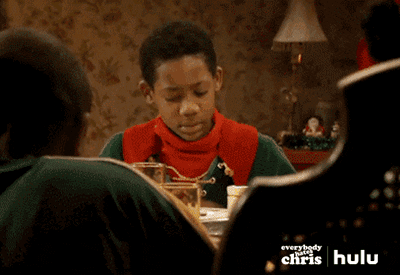 Just pray for us yall.
Grocery List
Bread
Saltine Crackers or Bread Crumbs
Canned Goods
Vegetable Oil
Chicken bouillon cubes (there are a few recipes that need a lot of chicken stock, these cubes are more cost efficient than buying it prepackaged)
Mayonnaise
Dijon Mustard
Worcestershire sauce
Lemon juice
Dairy
Eggs
Milk
Butter
Buttermilk
Dry/Baking Goods
All Purpose Flour
Baking Powder
Brown Sugar
Egg Noodles
Corn Starch
Frozen Foods
Meat
6-8 Whole Chicken Wings
Rotisserie Chicken (Pre-cooked)
1lb Steak (Sirloin, Skirt or Flank)
3lb Pork or Beef Ribs
1lb lump crab meat
Produce
Celery
Carrots
Yellow Onion
Asparagus
Red, Yellow, Green Bell Pepper
Zucchini
Green unripe tomatoes
Spices
Salt
Cinnamon
Vanilla Extract
Franks Red Hot Pepper Sauce
Honey
Garlic Powder
Onion Powder
Paprika
Cajun Seasoning
Garlic Cloves
Poultry Seasoning
Bay Leaves
Teriyaki Sauce
Fresh Thyme
Fresh Parsley
Old Bay Seasoning
Other
Recipe Links
Sunday: Hot Honey Lemon Pepper Wings & Waffles
Turning Lemons into Hot Honey Lemon Pepper Chicken
https://thesaltymarshmallow.com/homemade-belgian-waffle-recipe/
Monday: Rotisserie Chicken Noodle Soup
Chicken Noodle Soup + Why Men Can't Handle Sickness
Tuesday: Mostly Veggie Steak Stir Fry
https://oursaltykitchen.com/mostly-veggie-steak-stir-fry/
Thursday: Crockpot Smothered Ribs & Smoked Gouda Mashed Potatoes
https://iheartrecipes.com/smothered-ribs-soul-food-recipe/
Friday:Hunger Games
Saturday: Maryland Crab Cakes Benedicts with Fried Green Tomatoes
https://sallysbakingaddiction.com/maryland-crab-cakes/#tasty-recipes-71691
https://www.gritsandpinecones.com/easy-southern-fried-green-tomatoes/