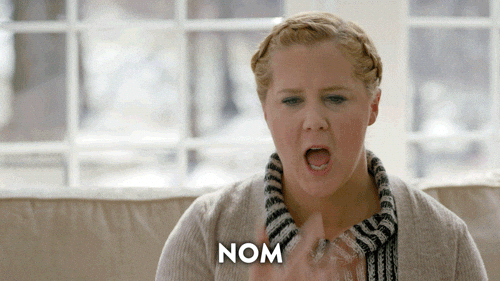 This week has me ready to EAT! I am in awe every week of how long this has gone on. I find it hard to be consistent with a lot of things because they are so far out of our routine. Food blogging can be expensive when you are buying items for a recipe just to take a picture. The one thing I can be honest about is that we eat everything that I cook. I don't believe in wasting any food just for the sake of blogging.
As I was doing the actual grocery list I see how this could be a more expensive week than the others. There are a lot of ways that you can make more cost effective substitutions.
Sunday: You can opt for Chicken wings instead of turkey. They can be a lot less expensive.
Monday: You don't have to use Salmon. You can use a more cost effective fish like tilapia.
Tuesday: Chicken thighs are usually cheaper than breast if you need to switch it out.
Wednesday: This is the tricky one. You can use imitation crab meat or omit it altogether. With this recipe you don't have to get a large shrimp a smaller shrimp would work just fine. You can also substitute the crab or shrimp for smoked sausage.
Thursday: This is an easy one. You don't have to use steak, these are fine with just chicken. We eat a lot of chicken and that doesn't bother us but I know that some families like variety.
Grocery List
Meats:
2 slices Bacon (Su)
10 Whole Wings (chicken or Turkey)
4 Salmon filets
3lb boneless chicken breast or thighs
2lb Shrimp
1lb crab meat or imitation
½ lb Steak (rib eye or tenderloin)
Produce:
1lb Brussel Sprouts (Su)
3 Celery Ribs (Su)
1 Large Carrot (Su)
1 Large Yellow Onion (Su)
2 Green BellPepper (Su,Th)
1 lemon (Su)
Fresh Herbs (Thyme, Rosemary,Bay Leaves) (Su)
2 Red bellpepper (M,Th)
¼ Green onions (M)
Italian Parsley (M)
1 Red Onion (Th)
Bread/Bakery:
4 Brioche Buns (M)
Slider Buns (Tu)
Dairy:
Butter (S,Su,Tu)
Half and half (Su)
1 Egg (M)
Whole Milk (W)
Shredded Cheddar Cheese (mild and Sharp) (W)
Smoked Gouda (W)
Grated Parmesan (W)
Spices & Condiments:
2t Smoked Paprika (Su)
13 Garlic cloves (Su)
2.5t Garlic Powder (Su)
1/2t Onion Powder (Su,T)
2t Dried Thyme (Su)
2T Worchestershire (Su)
3T Balsamic Vinegar (Su)
1t Cayenne Pepper (Su,Tu)
3T Mayo (M)
1T Creole Cajun Seasoning (M)
1t Creole Mustard (M)
1T Lemon Juice (M)
1T Chili Powder (Tu)
Dry/Baking Goods:
Flour
Bread Crumbs (M)
Brown Sugar (Tu)
Elbow Noodles (W)
Canned Goods:
5c Chicken Stock (Su,Tu)
Evaoprate milk (W)
Frozen Foods:
Oils & Vinegars:
Vegetable oil (Tu,M)
Olive Oil (Su)
Marsala Cooking Wine
*I encourage you to check your kitchen so you don't double purchase.
Recipe Links
Sunday: Smothered Chicken (or Turkey) Wings with Rice and Roasted Brussel Sprouts
https://carnaldish.com/recipes/roasted-turkey-wings-with-creamy-marsala-gravy/
Monday: Slow Cook Nashville Hot Chicken
https://www.plainchicken.com/2018/05/slow-cooker-nashville-hot-chicken.html?m=1
Tuesday: Salmon Burger/BLT
https://coopcancook.com/creole-shrimp-burger-recipe/
Wednesday: Cajun Seafood Mac and Cheese
https://mfantans.blogspot.com/2019/01/cajun-shrimp-and-crab-mac-and-cheese.html#
Thursday: Chicken and Steak Kebabs
https://fitfoodiefinds.com/grilled-chicken-fajita-kebabs-30-minutes/
Friday: Hunger Games/Freestyle – Eat leftovers or use them to make a new meal. (Try not to eat out)
Saturday Morning Breakfast: Bacon (or Sausage) Egg and Cheese Donut Sandwich
https://www.kleinworthco.com/bacon-egg-cheese-breakfast-donuts/